Training Event Details
Santa Barbara County Education Office (SBCEO)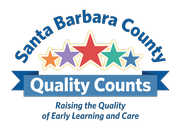 Teaching Pyramid Spotlight - Expectations, Emotional Deposits, PDA
Total Hours:
1.50 Clock Hours
Event Type:
Web-based Time Specific
Language of Instruction:
English
We will visit the Teaching Pyramid strategies Expectations, Emotional Deposits, and PDA.
This is an
In-depth training for Teaching Staff, Mentors and Professional Growth Advisors, Administration/Leadership Staff, Family Child Care Providers, Prospective Providers or Students, Special Educators/Early Interventionists, Trainers, Coaches.
Prior knowledge or experience needed:
None
This training will cover
Relationships, Interactions, and Guidance:.
Early learning standards/foundations:
Preschool (3 - 5 Years)
Social Interaction, Relationships
Is this a Gateways training?
No
The SBCEO Inclusion Initiative is proud to offer four separate Teaching Pyramid Spotlight sessions to support sustainability county-wide. These sessions are
intended to revisit specific Teaching Pyramid strategies, providing a refresher as well as a deeper understanding. This session will focus on Expectations, Emotional
Deposits, PDA
Training Organization Contact: Monica Thorpe And Christian Patterson ,
sbcccpc@sbceo.org
Keywords:
Center on the Social and Emotional Foundations of Early Learning (CSEFEL)