Training Event Details
Quality Counts San Luis Obispo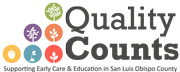 COP: Reflecting on CSEFEL Self-Paced CECO course
Total Hours:
1.00 Clock Hours
Event Type:
Web-based Time Specific
Language of Instruction:
English
Come together for a discussion on Pyramid Model, CSEFEL after completing CECO Module. For this COP, even if you did not have a chance to complete the CECO, you can still join in the discussion on how you use CSEFEL strategies in your classroom for 1 hour credit. See you there! Bring your thoughts, wonderings, and examples of CSFEL to discuss with your peers.
This is an
training for .
Prior knowledge or experience needed:
Early learning standards/foundations:
Adults in ECE, Toddler Care (19 - 36 Months), Preschool (3 - 5 Years), Transitional Kindergarten (4 - 5 Years)
Is this a Gateways training?
No
For this particular COP, it is great if you have taken the initial CECO course, but you may also register and just bring your OWN experience using CSEFEL Pyramid Framework strategies in your classroom. Peer to Peer discussion!