Training Event Details
Quality Counts San Luis Obispo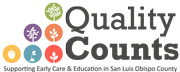 CECO: Self Paced Course; CSEFEL Teaching Pyramid Framework
Total Hours:
3.00 Clock Hours
Event Type:
Web-based Self-Paced/Ongoing
Language of Instruction:
English
Earn 3 hours of PD with this self-paced course on the foundations of the Teaching Pyramid Framework. CSEFEL helps us with Universally Designed Classrooms for ALL students to be successful. It will help with visuals, supporting behavior, and creating opportunities for students to build skills in friendships and negotiations.
This is an
training for .
Prior knowledge or experience needed:
Early learning standards/foundations:
Adults in ECE, Infant Care (Birth - 18 Months), Toddler Care (19 - 36 Months), Preschool (3 - 5 Years), Transitional Kindergarten (4 - 5 Years)
Is this a Gateways training?
No
Enroll in initial course through CECO- This is an introduction/review of the CSEFEL Teaching Pyramid. Once completed, also enroll in the COP for an extra hour of PD and reflection with peers.