Training Event Details
Quality Counts San Luis Obispo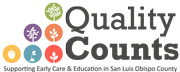 Teaching Toddlers Good Food Habits
Total Hours:
2.00 Clock Hours
Event Type:
Web-based Time Specific
Language of Instruction:
English
How to make meal times enjoyable for everyone. Food is a very important aspect in a toddlers daily routine and it's important to make sure it's balanced with healthy growing food. Meal time can be a messy and stressful time if not prepared. Learn to develop skills and planning ideas to support your growing toddlers.
This is an
training for .
Prior knowledge or experience needed:
Early learning standards/foundations:
Infant Care (Birth - 18 Months), Toddler Care (19 - 36 Months), Preschool (3 - 5 Years)
Is this a Gateways training?
No
Meeting UPDATED to Web-Based, Virtual Meeting! Based on weather and current attendance, this meeting has been moved from in-person to virtual. We hope to SEE you online.