Training Event Details
Quality Counts San Luis Obispo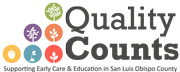 Community of practice: Applying NAEYC self-paced course
Total Hours:
1.00 Clock Hours
Event Type:
Web-based Time Specific
Language of Instruction:
English
Come together after your self-paced coursework on DAP & 9 Principles of Child Development and Learning to hear how others have reflected on their classroom since the course. Facilitated by Lauren Handley, this COP will be engaging and prompt further inquiry and give tips on how you can apply what you learned into daily practice.

* second opportunity in March if you cannot make this follow up to obtain your credit for QC.
This is an
training for .
Prior knowledge or experience needed:
Early learning standards/foundations:
Preschool (3 - 5 Years), Transitional Kindergarten (4 - 5 Years)
Is this a Gateways training?
No
First Complete the NAEYC DAP Course- this will be paid for by QC- please contact Lauren Handley for more information